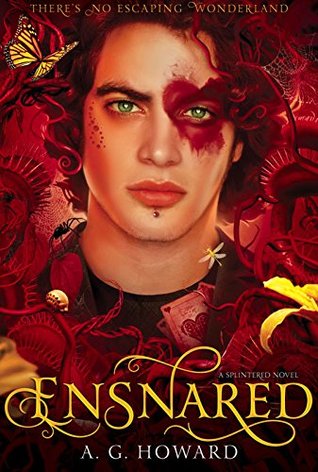 Title: Ensnared
Author: A.G. Howard
Publisher: Amulet Books
Published: January 6th 2015
Genre: Genre: Fantasy | YA | Retelling

Ensnared is the final book in the Splintered trilogy by A.G. Howard. In the final installment, Alyssa travels into the looking-glass world, where everything is distorted and backwards from Wonderland, to save her human Knight and her Wonderland King.

I honestly hated most of this book. I had to force myself to finish reading it. The first book was so magical and fun and probably should have ended there. The second book was okay, but really unnecessary. Then this last book was just boring and stretched out.
I was okay with the love triangle until we reach this last book. Then it gets really annoying. For me, it annoyed me that she was so stuck on Morpheus when Jeb had sacrificed so much for her. Morpheus just pulled at her until she did what he wanted her to do the whole time.
There wasn't much about this book that I liked. I thought the ending would make me happy, as I had already read the last chapter before I read even the second book. I couldn't help myself, it was sitting on the shelf at the library so I picked up the last book and read the last chapter. Had I stopped then and there I would have been okay with this trilogy. But reading the last book put a bitter taste in my mouth.
I would suggest the first book, but stop there.