Year Released:

2016
Directors Name: James Wan


Lead Actors:

Vera Farmiga | Patrick Wilson | Madison Wolfe
Production Company: New Line Cinema | Atomic Monster | Evergreen Media Group


Genre:

Horror | Mystery | Thriller
Storyline: In 1977, paranormal investigators Ed and Lorraine Warren travel to London, England, where single mother Peggy Hodgson believes that something evil is in her home. When Peggy's youngest daughter starts showing signs of demonic possession, Ed and Lorraine attempt to help the besieged girl, only to find themselves targeted by the malicious spirits.
I can be very harsh in reviewing horror movies. I have seen so many and not many scare me anymore. I stopped looking for a movie that scared me and more of a horror movie that I enjoyed and felt I could watch again. I enjoyed the first Conjuring movie. I thought it was really good and I have seen it several times now.
The second one is going to be no different. I have actually found myself thinking of a movie and wanting to watch it again, only to reali
ze the movie I am thinking about is The Conjuring 2 and I can't really afford to go see that again at the moment.
As far as the storyline goes, it was well written. It kept me interested throughout the entire movie, trying to figure out what exactly was going on. At times it even had me believing it was about a hoax instead of a haunting. The storyline moves along fairly quick and I don't recall finding myself bored at any moment in the movie.
There are a few jump scares that I thought were very well done. Of course, you can see them coming for the most part, but a few will still surprise you.
As far as scary go
es, there is one character in this movie that I thought might actually fallow me into my dreams. And I promise it wasn't the nun that you see in the previews.
Although, the nun character is rather sinister and creepy, we all have seen her in the commercials. Everyone knows she or rather, it, will be in the movie. The character that really got me is called the crooked man, and while the animation of him is 80's style CGI the concept was spine tingling.
The actors were fantastic as always. I love Vera Farmiga in everything she has done and she is the perfect actress for Lorraine Warren. Madison Wolfe, who plays Janet Hodgson is such an amazing actress. While I have not seen her in other movies, I do look forward to seeing her career flourish.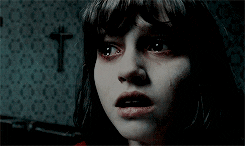 Final Thoughts: I do not feel that I wasted my money to see this movie. I thought it was fantastic, suspenseful, and an overall great horror movie. The last few minutes of the movie was so intense that I think I forgot how to breathe. It had me on the edge of my seat. That is what I look for in a movie. A story that will put me on the edge of my seat and capture my attention so completely, I forget I am only watching a movie.
Have you seen The Conjuring 2 yet?