Hey folks. Yep, it's me again. Trying to get my sh…stuff together and get back to blogging like I used to…blogging like I love it again. Don't get me wrong, I do love it, I just get sidetracked with everything else in the world…like sims!
But enough rambling, lets get on with this Sunday post.
Since there is only one other Sunday left if this month, I thought I would go ahead and prepare you for the great book releases of February!
These are books that I myself am looking forward to and are not even close to all the great books we will seen next month.
Also, did you know that new books are released on Tuesdays? So didn't know that until I decided to start doing a releases post!
February 2nd-
 Unhooked by Lisa Mazwell: 

For as long as she can remember, Gwendolyn Allister has never had a place to call home—all because her mother believes that monsters are hunting them. Now these delusions have brought them to London, far from the life Gwen had finally started to build for herself. The only saving grace is her best friend, Olivia, who's coming with them for the summer.

But when Gwen and Olivia are kidnapped by shadowy creatures and taken to a world of flesh-eating sea hags and dangerous Fey, Gwen realizes her mom might have been sane all along.

The world Gwen finds herself in is called Neverland, yet it's nothing like the stories. Here, good and evil lose their meaning and memories slip like water through her fingers. As Gwen struggles to remember where she came from and find a way home, she must choose between trusting the charming fairy-tale hero who says all the right things and the roguish young pirate who promises to keep her safe.

With time running out and her enemies closing in, Gwen is forced to face the truths she's been hiding from all along. But will she be able to save Neverland without losing herself?
What got me with this book is the Neverland part…it's almost like it's going to be a sort of retelling. I originally looked into it because I thought it might be a story about Captain Hook…what can I say, I have a soft spot for the Hook. But, I am terribly intersted in this story and how things will go down.
The Little Android: A retelling of Hans Christian Andersen's "The Little Mermaid," set in the world of The Lunar Chronicles.
Glitches: In this prequel to Cinder, we see the results of the plague play out, and the emotional toll it takes on Cinder. Something that may, or may not, be a glitch….
The Queen's Army: In this prequel to Scarlet, we're introduced to the army Queen Levana is building, and one soldier in particular who will do anything to keep from becoming the monster they want him to be.
Carswell's Guide to Being Lucky: Thirteen-year-old Carswell Thorne has big plans involving a Rampion spaceship and a no-return trip out of Los Angeles.
The Keeper: A prequel to the Lunar Chronicles, showing a young Scarlet and how Princess Selene came into the care of Michelle Benoit.
After Sunshine Passes By: In this prequel to Cress, we see how a nine-year-old Cress ended up alone on a satellite, spying on Earth for Luna.
The Princess and the Guard: In this prequel to Winter, we see a game called The Princess
The Mechanic: In this prequel to Cinder, we see Kai and Cinder's first meeting from Kai's perspective.
Something Old, Something New: In this epilogue to Winter, friends gather for the wedding of the century…
These are the short stories written by Marissa Meyer. I am not going to lie, I have fallen in love with the whole Lunar Chronicles series. I love a fairy tale retelling and I just can't help myself. I have already read The Little Android and it's just as amazing as the Lunar Chronicles. Marissa Meyer will not let us down.
Life in the outer realm is a lawless, dirty, hard existence, and Solara Brooks is hungry for it. Just out of the orphanage, she needs a fresh start in a place where nobody cares about the engine grease beneath her fingernails or the felony tattoos across her knuckles. She's so desperate to reach the realm that she's willing to indenture herself to Doran Spaulding, the rich and popular quarterback who made her life miserable all through high school, in exchange for passage aboard the spaceliner Zenith.

When a twist of fate lands them instead on the Banshee, a vessel of dubious repute, Doran learns he's been framed on Earth for conspiracy. As he pursues a set of mysterious coordinates rumored to hold the key to clearing his name, he and Solara must get past their enmity to work together and evade those out for their arrest. Life on the Banshee may be tumultuous, but as Solara and Doran are forced to question everything they once believed about their world–and each other–the ship becomes home, and the eccentric crew family. But what Solara and Doran discover on the mysterious Planet X has the power to not only alter their lives, but the existence of everyone in the universe…
I am a sucker for space travel! Like…seriously, I want to travel space and time with the Doctor (Doctor Who nerd here) and I want to read anything and everything that involves space travel. YES! Just the cover alone had me.
February 9th-
Glass Sword by Victoria Aveyard: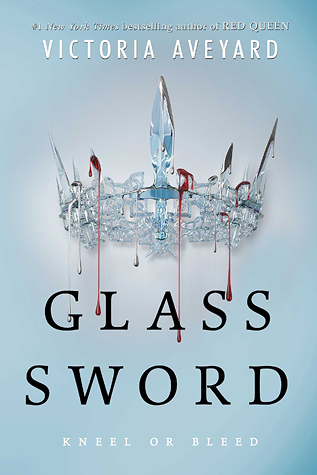 Mare Barrow's blood is red—the color of common folk—but her Silver ability, the power to control lightning, has turned her into a weapon that the royal court tries to control.

The crown calls her an impossibility, a fake, but as she makes her escape from Maven, the prince—the friend—who betrayed her, Mare uncovers something startling: she is not the only one of her kind.

Pursued by Maven, now a vindictive king, Mare sets out to find and recruit other Red-and-Silver fighters to join in the struggle against her oppressors.

But Mare finds herself on a deadly path, at risk of becoming exactly the kind of monster she is trying to defeat.

Will she shatter under the weight of the lives that are the cost of rebellion? Or have treachery and betrayal hardened her forever?
Yes!!! I read Red Queen last year and I fell in love with the story and the characters. I finished reading it while I was at the beach and I had to hold back my squeals of excitement while I was reading on the beach. As well as my heavy sighs and fits of giggles when I finished the book. One thing is for sure, I will be getting this book and I will read Red Queen again before getting into this one! I can't wait!
Reign of Shadows by Sophie Jordan: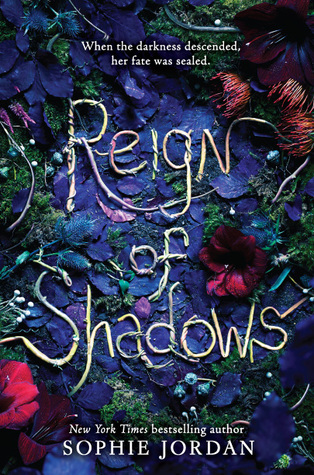 Seventeen years ago, an eclipse cloaked the kingdom of Relhok in perpetual darkness. In the chaos, an evil chancellor murdered the king and queen and seized their throne. Luna, Relhok's lost princess, has been hiding in a tower ever since. Luna's survival depends on the world believing she is dead.

But that doesn't stop Luna from wanting more. When she meets Fowler, a mysterious archer braving the woods outside her tower, Luna is drawn to him despite the risk. When the tower is attacked, Luna and Fowler escape together. But this world of darkness is more treacherous than Luna ever realized.

With every threat stacked against them, Luna and Fowler find solace in each other. But with secrets still unspoken between them, falling in love might be their most dangerous journey yet.
Moment of honesty, I just read about this one. The reason I want to read it is because it sounds like a mix of Rapunzel and Snow White. And the more I look at the cover the more I hate it…I just don't like it. It makes me think of 80's claymation. But the story sounds intriguing, so I want to check it out.
February 16-
The Shadow Queen by C.J. Redwine
Lorelai Diederich, crown princess and fugitive at large, has one mission: kill the wicked queen who took both the Ravenspire throne and the life of her father. To do that, Lorelai needs to use the one weapon she and Queen Irina have in common—magic. She'll have to be stronger, faster, and more powerful than Irina, the most dangerous sorceress Ravenspire has ever seen.

In the neighboring kingdom of Eldr, when Prince Kol's father and older brother are killed by an invading army of magic-wielding ogres, the second-born prince is suddenly given the responsibility of saving his kingdom. To do that, Kol needs magic—and the only way to get it is to make a deal with the queen of Ravenspire, promise to become her personal huntsman…and bring her Lorelai's heart.

But Lorelai is nothing like Kol expected—beautiful, fierce, and unstoppable—and despite dark magic, Lorelai is drawn in by the passionate and troubled king. Fighting to stay one step ahead of the dragon huntsman—who she likes far more than she should—Lorelai does everything in her power to ruin the wicked queen. But Irina isn't going down without a fight, and her final move may cost the princess the one thing she still has left to lose.
Snow White retelling. I can't help it!! I love Disney movies and all the wonderful princesses. I love even more when great writers take those fairy tales and twist them into something new. I could read a million retellings and never get tired of them!
For eighteen-year-old Gideon Blake, nothing but death can keep him from achieving his goal of becoming a U.S. Army Ranger. As it turns out, it does.

Recovering from the accident that most definitely killed him, Gideon finds himself with strange new powers and a bizarre cuff he can't remove. His death has brought to life his real destiny. He has become War, one of the legendary four horsemen of the apocalypse.

Over the coming weeks, he and the other horsemen–Conquest, Famine, and Death–are brought together by a beautiful but frustratingly secretive girl to help save humanity from an ancient evil on the emergence.

They fail.

Now–bound, bloodied, and drugged–Gideon is interrogated by the authorities about his role in a battle that has become an international incident. If he stands any chance of saving his friends and the girl he's fallen for–not to mention all of humankind–he needs to convince the skeptical government officials the world is in imminent danger.

But will anyone believe him?
Come on! This is another kind of story that I love. The four horsemen of the Apocalypse. And this story is about a teenager who dies, just to become War! Okay, so maybe I just love stories about the Apocalypse…post apocalypse…you know, the scary "end-of-the-world" stuff.
February 23
The Forbidden Wish by Jessica Khoury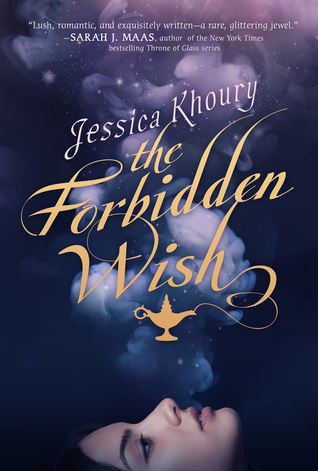 When Aladdin discovers Zahra's jinni lamp, Zahra is thrust back into a world she hasn't seen in hundreds of years — a world where magic is forbidden and Zahra's very existence is illegal. She must disguise herself to stay alive, using ancient shape-shifting magic, until her new master has selected his three wishes.

But when the King of the Jinn offers Zahra a chance to be free of her lamp forever, she seizes the opportunity—only to discover she is falling in love with Aladdin. When saving herself means betraying him, Zahra must decide once and for all: is winning her freedom worth losing her heart?

As time unravels and her enemies close in, Zahra finds herself suspended between danger and desire in this dazzling retelling of Aladdin from acclaimed author Jessica Khoury.
Who doesn't love Aladdin?? Or jinni's? And three wishes? I want three wishes. I would wish to be as rich as Bill Gates. To be slim (healthy slim) and never have trouble with my weight again. And then…I would free the jinni because I don't have any other wishes.
The cover of this book is gorgeous and I need it for my collection. And it has a nice rating on Goodreads so far, so I'm guessing the lucky folks who have already had their hands on this book enjoyed it.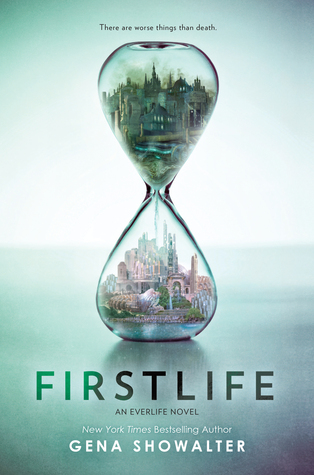 Tenley "Ten" Lockwood is an average seventeen-year-old girl…who has spent the past thirteen months locked inside the Prynne Asylum. The reason? Not her obsession with numbers, but her refusal to let her parents choose where she'll live—after she dies.

There is an eternal truth most of the world has come to accept: Firstlife is merely a dress rehearsal, and real life begins after death.

In the Everlife, two realms are in power: Troika and Myriad, longtime enemies and deadly rivals. Both will do anything to recruit Ten, including sending their top Laborers to lure her to their side. Soon, Ten finds herself on the run, caught in a wild tug-of-war between the two realms who will do anything to win the right to her soul. Who can she trust? And what if the realm she's drawn to isn't home to the boy she's falling for? She just has to stay alive long enough to make a decision…
There are a few reasons I want this book. It's possibly my second most anticipated book of February. First reason being that it's Gena Showalter. She writes amazing adult novels, but I recently read her YA novles "The White Rabbit Chronicles" and I fell in love with this series. I devoured those books and I just know that this new YA series by Showalter is going to be just as good as the last one. The second reason I am looking forward to this is because of the storyline. It's so unique and thought provoking. Third reason…COVER! It's so pretty!
That is all I have for you today. It's not a lot…basically because I am not rich and I have put on my blinders to keep from going broke in February. But if there is a book that you are looking forward to, let me know! Especially, if you feel I need to add it to my list.
What books are you looking forward to next month? Any of the ones listed here?
Toodles for now!