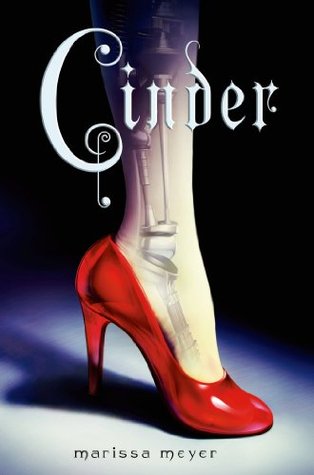 Hello my friends! Just as promised, I bring you a book review…and only 3 years after the book was released…
Truthfully, I read this book around the time it first showed up on the shelves. Why? Hello! Have you seen the cover. Take a second and admire the beautiful art work of Michael O. Honestly, if I ever become a famous author, I hope that this man is the one who designs my book cover. His work is amazing.
Sorry, moving on to the book!
Cinder lives with her stepmother and two stepsisters. The classic Cinderella story, except, Cinder is a cyborg. A tragic accident when she was a child, left a good portion of her body so damaged, there was no saving it. Someone took pity on her, patched her up, and brought her home. Then, the man who cared for her died, leaving her to the devices of her stepmother. Now, Cinder's job is to run a booth in town where people drop off their fancy, high tech gadgets, for Cinder to fix. And she is good at what she does, the best in her field.
Things only get worse for Cinder as one of her stepsisters, the one that is kind to Cinder, falls ill with the plague that is sweeping the nation. Not only that, but Prince Kai has a job for Cinder and she can't refuse.
MY THOUGHTS
I have now read this novel twice. There was enough time in between reads that there were a few details I had forgotten and was surprised by again. I love when that happens. It was almost like reading the book the first time. And I will say, I still love this book. Of course, I will give any book a chance that has twisted the frilly fairy tales we are all used to.
I would read this book again and again…if my TBR list wasn't so long and ever growing. There are so many things that make you scream at the book, smile in delight, and want to curl up in a ball and cry. Then again, that could just be me and my lovely (and annoying at times) ability to put myself in the characters shoes.
If you like a twist on a fairy tale, you should read this book. If you like cyborgs, read this book. If you like stories set in the distant future that makes you question everything in your life right now, you should read this book.
I remember the first time I read it, I was so entranced that I couldn't put the book down. And who doesn't love that?
When you start out with this story, the concept of cyborgs just captures you. And the ending will leave you with a gut wrenching wonder of what will happen next.
CONCLUSION 
I read this novel for a second time because I was finally going to move on with the serious. The wonder was gnawing at me, telling me I just had to find out what happened to Cinder. But in order to read the next book, Scarlet, I had to refresh my memory.
I am so glad that I read this novel a second time. It has probably become one of my favorites, and I am sure the series will become one of my favorite series.
Have you read Cinder? What did you think about it?
To check out this novel click HERE to go to Goodreads.
More about the author HERE.
More about the amazing Cover Designer HERE.